Howdy Folks,
Thanks for all you new followers as well as you 'old timers', I really do appreciate it!
Back on Friday (12-18-09) we had a pretty major winter storm come through our area. The area I work in (foothills of NC) received around 10-12 inches of frozen stuff (mixture of snow, sleet and freezing rain) and back home we had 6 inches of the same.
The DOT had
pre
-salted the roads on Thursday, but the first wave of snow came and melted washing the salt away. The roads were wet and slushy but nothing major. After lunch the ice began again with a vengeance and by 4 pm the roads were completely covered. The bosses told us we could head to the house as soon after 3 pm as we could get back to the office. As I drove the work truck back to the office there is a pretty steep hill that is over 1000' long and traffic had stopped. Many folks started up the hill, started spinning, freaked out, and SLOWLY backed down the hill. After 30 minutes of waiting I gave up and headed up the back way, which I had decided to avoid because I figured it would more difficult to go up. 10 minutes later I got to my parking place.
This picture was taken as a screen shot from a video on the iPhone as I didn't have any pics of wreck but lots of videos. iPhone rocks!!!
After seeing much mayhem, stupid drivers, and dicey roads, I was happy to head home. I jumped in ole Blue (my 4x4 truck) and pointed it toward home.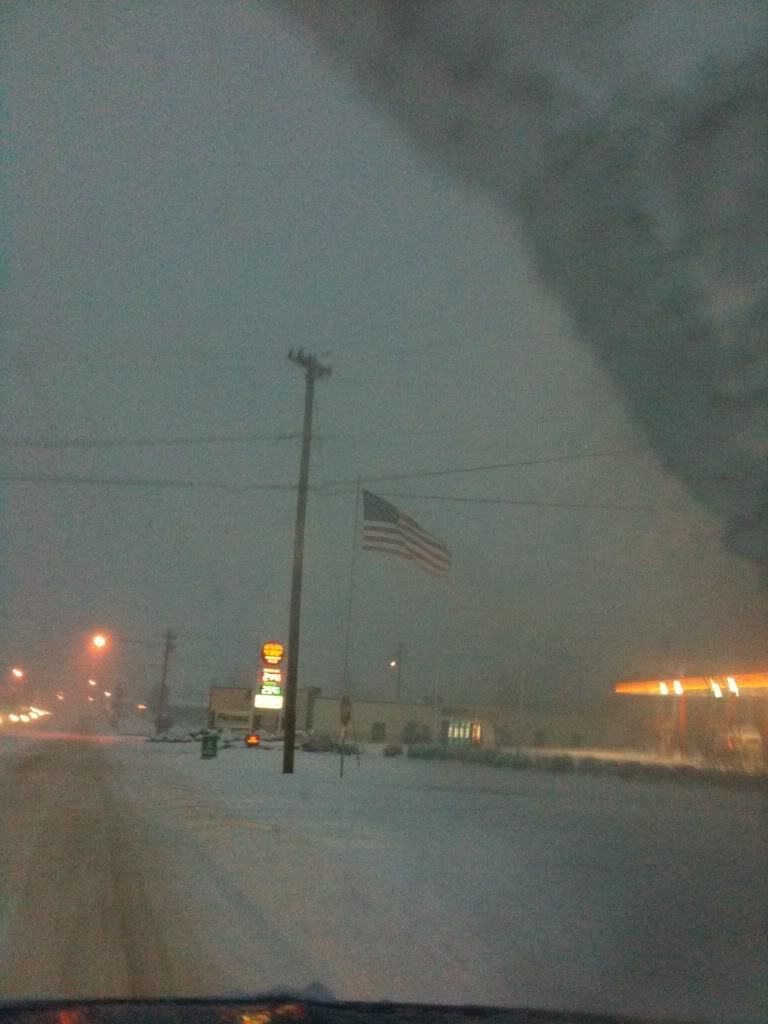 As I headed out of town I snapped this picture of this gas station chain which has huge American flags flying. The wind was blowing around 10-15 mph at the time of this pic.
After I got out of town I pretty much had the roads to myself. The roads were pure ice but I was able to keep it going and going straight.
About 4 miles away from home Mr. Murphy reared his ugly head. My battery had died a few weeks back and I recharged it. The battery held the charge well and I figured it was good to go. WRONG! After running the lights, heater blower, and ham radio I figure it was just too much for the old battery and it just quit on me.
Crap, now I was stuck on a hill with a dead battery!!! NOT GOOD!!! AAA would be swamped. No way the wife was going to come out into this mess. No one was in a helping mood until about 45 minutes after my little ordeal began. As I waited, several folks with front wheel drive cars got stuck down at the bottom of the hill (more on that later). I offered to help them as soon as I could get a jump. With the hood up and holding jumper cables no one offered to help... Karma is a bitch so I hear...
Since my battery was dead, my four way flashers would not work. Luckily being a
prepper
, I had multiple sets of road flares on hand. I decided to use them one at a time as I didn't know how long I was gonna be on iceberg hill. Luckily before the first one burned down, I was getting my truck jump started :) Luckily it held up. I turned off all non-essential drain on the battery and let it idle.
The battery on my iPhone was OK, but I always carry my little battery pack that I keep charged so in case I needed 2.5 full charges I had that capability independent of my truck's (failed) electrical system.
So now Russell (aka Mr. Good Samaritan) has given me a jump and I am good to go. So off we go to help the stuck motorists. This is another one of those long hills and with the snow/ice sleet still pouring down it was going from bad to worse. Both drivers had front wheel drive cars and they could easily go up the hill, if they would simply learn how to accelerate WITHOUT spinning. One lady had major problems until I told her to put her manual transmission in 2
nd
gear and start up the hill. With front wheel drives and winter weather driving don't stop or spin on a hill and you are good to go! If that wouldn't have worked we would have lowered the air in the tires, but they went good as is.
Russell and I originally planned to tow the stranded motorists up the hill, but these little cars with all their plastic parts and NO WHERE to attach a tow strap or chain is almost impossible to do! So that is when we decided to drive them up the hill. The only tow points were too small for my clevis hooks to attach to. Works on big vehicles, little ones... not so much!
So by now we got the whole hill cleared and no one is left stranded. Luckily I made it the remaining 4 miles home without any more failures of my Battery. On Sunday the roads were cleared up enough to allow me to get a replacement battery.
So when things are at their worst you can expect Mr. Murphy to come calling.
Things that worked:
Gore-Tex: As I was working outside in the weather all day, I already had my gear on. Usually I take it off for the drive home, but not this time. After laying on the ground looking for a place to attach a chain I was glad I was dry and warm!
Reflective Vest: I was wearing my reflective vest from work and had forgotten to take it off. Glad I had it on!
Flashlights: LED and
Surefires
worked really well. I was the only one who actually had a flashlight(s)!
WTF
is up with that??? Light good, dark bad!
Road Flares: Work Great! Lets others know that there is a problem ahead, and also keeps people away from where you do not want them to drive as no one wants to drive over a incendiary device!
LOL
Truck (other than the battery): Never had a problem driving on the snow or going up or down hills. Old Blue got-r-done...
AutoCraft
battery??? epic fail!!!
Things I had that could have helped:
The SAW: No, not the Squad Automatic Weapon, but rather the
Husqvarna
chainsaw I carry with fuel and oil. With the way the wind was blowing, 20 mph when I got home, I was SHOCKED my power didn't go off or the road was blocked by a tree. This is the first time I have driven home in a winter storm that there was not ANY trees in the road! After the wind picked up there may have been some, but I didn't care.
Things I should have had:
I wished I had a jump starter pack for 2 reasons. One is I could have used it to power the electronics to allow me to roll start my truck and maybe got it going... Also I could have jumped off my truck!!!
My 1100W 12/24V DC Generator: I used to carry this in my truck during bad winter weather but have not needed it, so it sat in the garage. Too bad, this puppy will give you 90 amps of CONTINUOUS 12V DC cranking power. Next winter storm this will be riding along as well!!!
Things I let others borrow: A buddy at work had a failure of his
windshield
wiper blades, so I let him have my USED spare pair. When I change out my old ones I keep them as spares so I have SOMETHING in case my new ones fail.
We got a total of 6 inches here and lucky for me, I am off for awhile, so I don't
hafta
go any where if I don't wanna.
Thanks for reading and 73!
Later,
ZA